At A&T, we understand the importance of ensuring excellence in nearshoring operations; that's why we offer our specialized quality control inspection services  to new plants establishing themselves in Mexico.
Our focus as a Nearshoring services supplier is on providing comprehensive solutions to new businesses that ensure the quality of produced parts, thus optimizing the supply chain with services like quality control in manufacturing.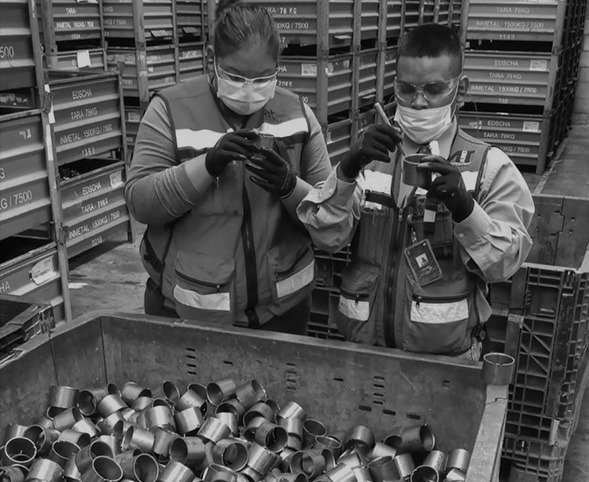 How Do We Support New Plants in Mexico?
Our Quality Control Solutions are designed to be the reliable provider in the country and benefit production startups for Nearshoring in Mexico.
When launching new production lines, you'll need a company experienced in the regional market that offers specialized quality control services and helps perform product inspection or final piece inspection before the item reaches its OEM.
Our Nearshoring Services :
What Are the Benefits of Quality Control Services?
The services of Third Party Inspection Companies, like us, can provide added values such as:
How to Determine if I Need Nearshoring Services?
If your company is considering nearshoring in Mexico, you'll need to ally with sorting companies in Mexico to help reduce production costs without compromising your new plant startup.
As a sorting company, we identify and mitigate potential issues or defects before, during, and after production, helping your company avoid costly delays or high PPM returns.

Why Choose A&T for Your Quality Control Inspection Services?
If you're looking for 3rd party sorting companies, we can help you! By acquiring A&T's nearshoring services, your company will benefit in various aspects such as:
Experience and Expertise:

Provider with extensive experience in the field of

Quality Control

and broad knowledge across various industrial sectors in Mexico.

Compliance with Local Regulations

:

We have REPSE registration, the most important governmental requirement for an industrial services provider in the country to avoid conflicts with social security institutions.

Tools and Technology:

At A&T, we use cutting-edge technology and systems to optimize our part inspection service.
What to Consider When Hiring 3rd Party Sorting Companies?
The cost of nearshoring services from Third Party Inspection Companies like A&T varies significantly based on the request requirements. To quote this service, you should have the following information:
Project Duration:

Let us know if your project is temporary or fixed. Specify the number of hours, days, or months.

Type of Service Required:

Indicate the type of Quality Control service you require.

Number of Inspectors:

How many inspectors (specify how many per shift).

Work Hours:

Tell us the working hours, shifts, and days.
Mention the Quantity of Pieces to inspect or certify.
What PPE does personnel need to enter your plant?
Tools:

If the inspection requires tools, specify which ones and whether you, as the client, will provide them or if they are needed from your sorting provider.

Consumables:

Detail the consumables the team will need for the inspection, such as water markers, oil markers, labels, or others.
Are you a new company in Mexico in search of a local sorting provider?